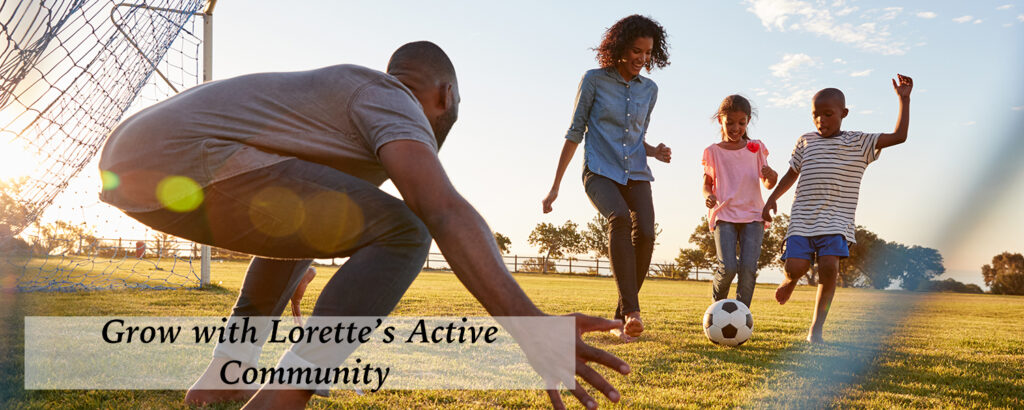 Family Friendly Community close to Winnipeg
Do you work in the city and want more space for your kids to roam free? Are you looking for a community that is safe, secure and offers all the amenities and activities necessary for healthy and active living?
Look no further as you've found the perfect place to raise your kids! If you don't believe us, just ask the Johnsons; long-time residents of Lorette.
With the help of long-time residents and community leaders, we've been able to start a video series promoting the growth in Lorette, and community as a whole. Select the Grow With Us in Lorette link below to see what Lorette's residents and local business owners have to say about this flourishing country-style community.
Activities and Recreation for Families
With its variety of schools, and vast array of amenities and services, Lorette offers the benefits of BIG city living in a quiet country setting.
Enjoy Lorette's thriving Active Living Community with its' recreational activities such as a splash park, hockey arena and rink, curling rink, highly rated 9-hole golf course and more. Take a minute to scroll through the images below to see what sorts of activities await you.
Visit our Businesses Page for a list of businesses and services in Lorette.
Schools and Educational Programs in Lorette
Lorette is home to Seine River School Division as well as the Franco-Manitoban School Division. Below we have listed the schools in Lorette and have included easy to follow links to get more information about the programs available in each school.
Day-Cares and Child-Care Programs in Lorette
Not only does Lorette have a multitude of activities available for young families and a variety of school and educational programs, they have several different child-care programs for Anglophone, Bilingual and Francophone families. For more information, select the links below.
Tache Community Day-Care Centre: The Taché Community Day Care Inc. is a licensed, non-profit charitable organization, which provides programming for children ages 12 weeks to 12 years. They offer the following programs:
8 infants aged 12 weeks to 18 months
toddler program with 4 infants age 18 months - 24 months
12 children age 2-3 year olds
preschool program with 32 children age 2- 5
School Age program with 55 children age 5-12
Their team of Early Childhood Professionals deliver a quality, safe and nurturing program consisting of a variety of developmentally appropriate activities which are aimed at enhancing individual child development in the following areas: social and emotional cognitive (thinking and concept learning) language; fine motor and gross motor (physical) self-help skills. For more information visit our Businesses Page or contact Tache Community Day-Care directly.
Activities for all ages and a thriving and social community, Lorette is more than just a small country town. With its easy access to the TransCanada Highway, Lorette is perfect for individuals who need to travel for work, or for quick family trips into the city or to cottage country. The latest development; River Ridge will include Residential Housing and Duplexes for sale as well as Townhouses and bungalow-style apartment rentals, as well as Mature 55 Plus Adult Living Neighbourhood. Make Lorette your next home, Contact Us today or visit our Featured Builders Page for more information about builders and homes available.