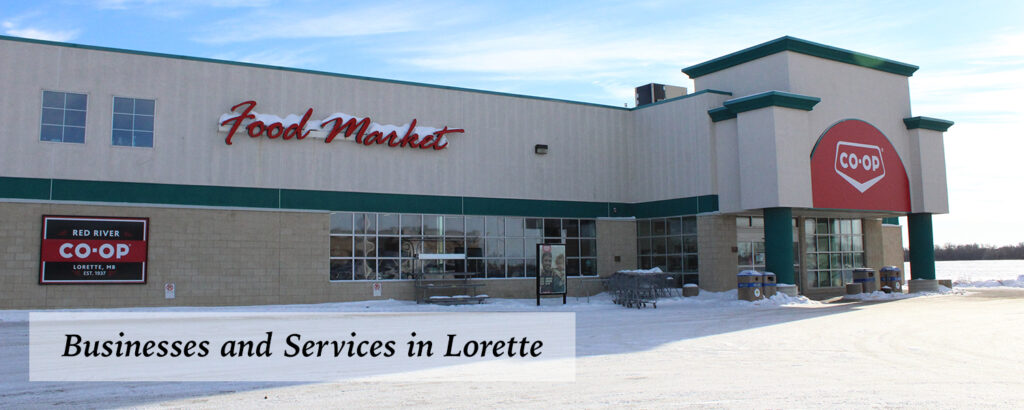 Businesses and Amenities in Lorette
Lorette's growing and country-style community has amazing services and amenities for active individuals and families.
With Grocery Stores, Gas Stations, locally operated Restaurants, Retail Shops and a large variety of Health and Wellness Services, Lorette is the perfect place to raise your family and grow old in your retirement.
Locally Owned and Operated Businesses in Lorette
Take a minute to scroll through our local amenities and professional services. Select the links for more information about each business.
Dawson Servicentre Ltd., located at 1190 Dawson Road in Lorette, has been serving the community for over 35 years. Conveniently located on Dawson Road, right beside the Dawson Trail Motor Hotel, Vic and his team of licensed automotive technicians can fix all makes and models. Visit their location on Dawson Road or give them a call at 204-878-2189 for more information. "Keeping Up With Modern Technology", the team at Dawson Servicentre is dedicated to providing the best automotive service using the latest technological advancements! Check out the video of local resident and business owner, Vic Black. In this video he talks about what brought him to Lorette almost 30 years ago to start an Automotive Service and Repair Company in this flourishing, bilingual community.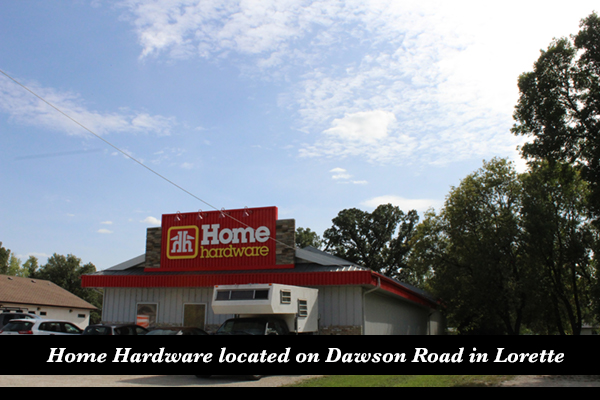 Lorette's Home Hardware is a locally owned and operated hardware and retail store that offers a large variety of essential and non-essential goods. All non-essential items can be ordered online and are available for curb side pickup. Please visit their website and give them a call to confirm inventory prior to placing your order. Click here to visit their website or visit them in person at 1328 Dawson Road in Lorette, Manitoba. Select the video link below, featuring owners Jessica and Dave Audette, where they talk about why they wanted to run the local hardware store in Lorette.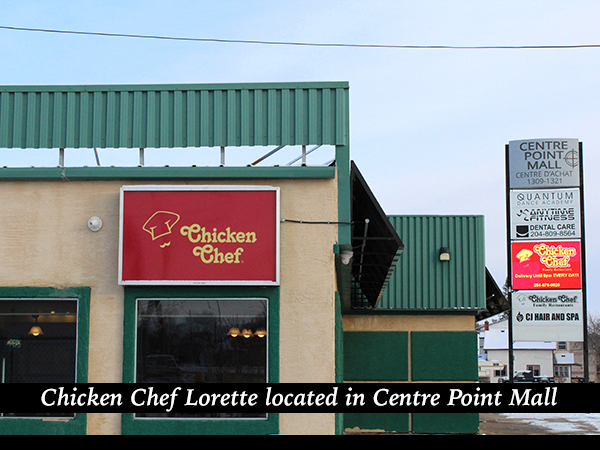 Chicken Chef Lorette offers good food and friendly service to community members and local businesses in the RM of Tache. Simple values and a friendly country atmosphere, Chicken Chef is excited and proud to be part of this actively growing community for over 15 years. Visit their location at 1309 Dawson Road, in Lorette, Manitoba. Or check out their website to order online for delivery and take-out or catering services. "Chicken Chef Lorette; Where it always feels like home."
Click here to visit their website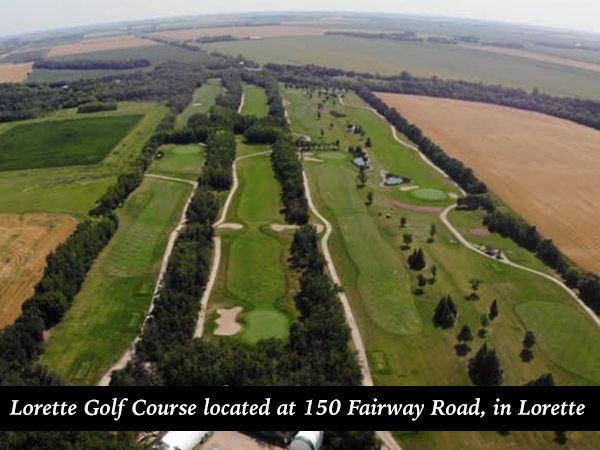 Lorette Golf Course is one of Manitoba's top golf courses and it's located in Lorette! Nestled along the Seine River, this challenging and scenic 9-hole golf course offers great deals on public play, memberships and tournaments. With events held annually, there's always something going on at the Lorette Golf Course. Visit their website, https://www.lorettegolf.ca, call (204) 878 2172 or email for more information about golf activities in Lorette, or to book your tee-time online! Located at 150 Fairway Drive, Lorette Golf Course is only steps away from Lorette's newest housing development! Visit the River Ridge Contact Us page to purchase your next home right beside your favourite golf course.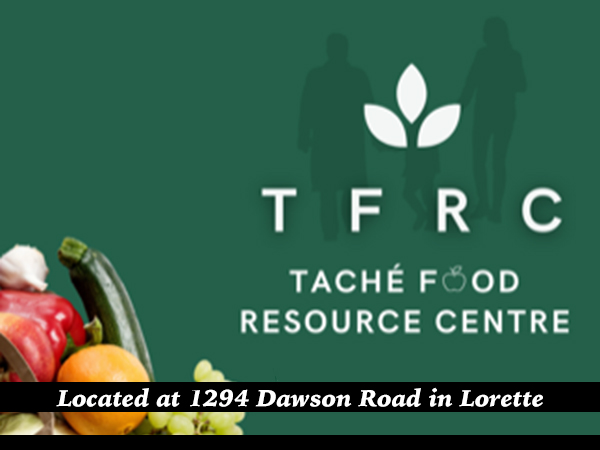 Tache Food and Resource Centre
Tache Food and Resource Centre provides services to the town of Lorette and surrounding communities located within the Municipality of Tache. They provide food hampers to 52 families on a bi-weekly basis and continually work with communities and local business owners to raise money and ensure families within the RM are fed throughout the year. To make monetary donations, find them on Facebook at Tache Food Resource Center or select the this link and send them a Direct Message or email the centre directly at: tachefoodrc@gmail.com. Tache Food and Resource Centre; helping to create healthier and more active communities.
C&S Country Gardens is located west of Lorette on Highway 207 and has been serving the community since the spring of 1996. For over 20 years, this conveniently located garden and country store produces locally grown annuals, perennials, shrubs and trees as well as provides soils, mulches, ornamental stone and other hard goods for landscapers and gardeners. Hours of operation change based on the season. Please visit their website for current hours and contact information: www.countrygardener.ca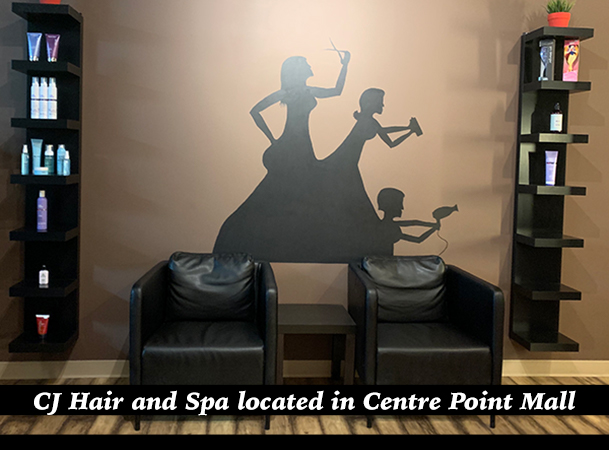 CJ Hair & Spa
Since 2012, CJ Hair & Spa salon has been located in Centre Point Mall, on Dawson Road and has been providing hair, nail and skincare services to the residents of Lorette and surrounding communities. After expanding in 2015, owner Lynne de Rocquigny rebranded the salon to include her daughters Chantal and Janelle. Family owned and operated, CJ Hair & Spa is passionate about providing cuts and colours for the whole family including highlights and balayages, perms, styles and updo's that will suit everyones' style. They also provide all nail and skincare services such as manicures, pedicures, waxing, sugaring, facials, lash lifts and tints as well as tanning services. A full service salon, right in your own neighbourhood. Visit their website for a full list of services and hours of operation: www.cjhairspa.ca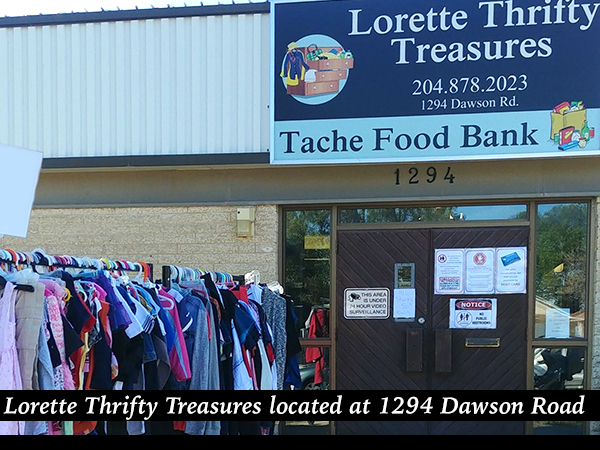 Thrifty Treasures Lorette has been providing affordable clothing and household items for over 35 years to the local residents of Lorette, and the surrounding RM of Tache. A staple in the community, Thrifty Treasures was created "to provide community services to enable people to improve their quality of life socially, financially and emotionally, respecting all social, cultural, linguistic and spiritual needs." As an inclusive business, Thrifty Treasures is a place where community members come together, with over 35 volunteers helping to run local thrift shop. Vintage and second-hand clothing, household items and more, visit their location at 1294 Dawson Road, in Lorette Manitoba. Visit their Facebook page for more information on shop hours and drop-off instructions.
Click here to visit their Facebook Page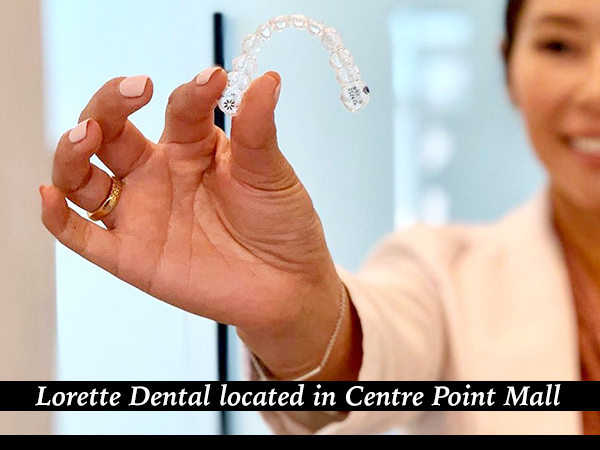 Since 2012 Dr Nguyen and Dr Jeal and their associates have been providing dental care to families in Lorette. As the only local dental care office, the group treasures the opportunity to interact and grow with a community in a way that isn't possible in the city. At Lorette Dental there are solutions for all dental concerns including simple dental cleanings and check-ups or for more comprehensive care like providing solutions for missing or misaligned teeth. Oral care is a key component to everyone's life and at Lorette Dental patients get step by step guidance to help them find their right way to better health. Lorette Dental is located at 102-1309 Dawson Road in the Centre Pointe Mall and is open from Monday to Saturday. Call 204-809-8564 or visit their website for hours of operation and to learn how to become a patient: www.lorettedental.com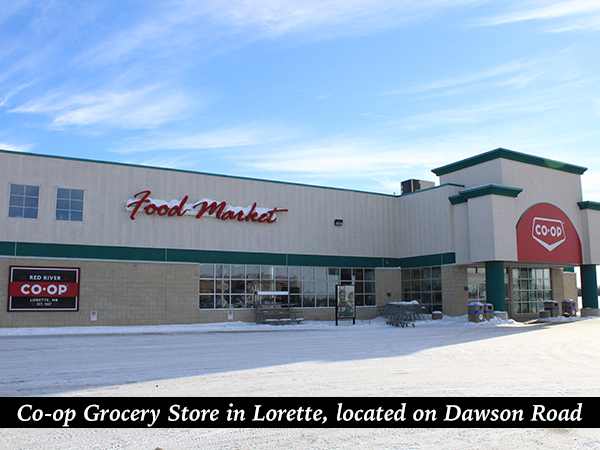 Located along highway 207, on the southeast side of Lorette is great 3,500 square foot grocery store that offers locally sourced produce and freshly baked goods daily. With an extensive deli and a large variety homemade soups and sandwiches, Lorette's Co-op is the perfect place to shop for all your family's needs.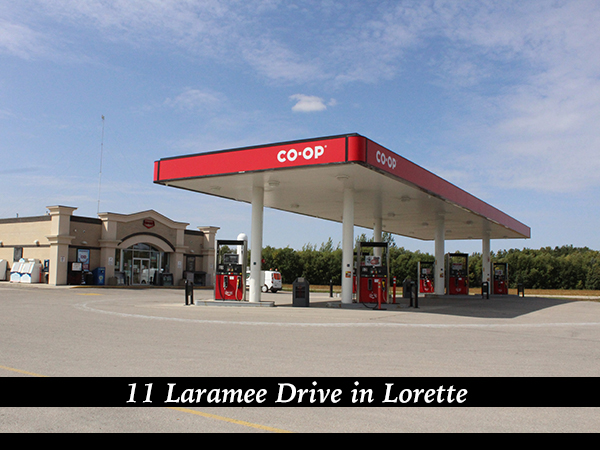 Conveniently located along highway 207, beside the Co-op Grocery Store, is Lorette's Co-op Gas Bar; a full-service gas station and convenience store. This locally managed gas station is proud to offer convenient access to all the necessities and great fuel prices.
Anytime Fitness is conveniently located in Lorette's Shopping Centre and provides the local residents and surrounding community with the best health and fitness programs. This full-service gym includes 24 hr access and security perfect for families and individuals who want to maintain healthy and active lifestyles but have irregular schedules. Reach your goals with Anytime Fitness, located at 107-1309 Dawson Road. Visit their website for membership opportunities."
Click here to visit their website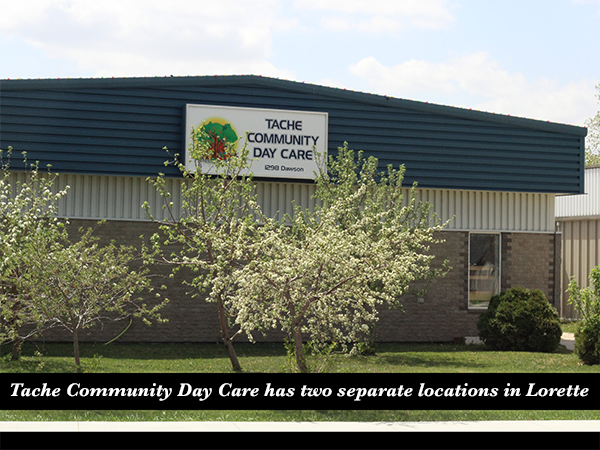 At the Tache Community Day-Care an emphasis on valuing each child is made, as the child care professionals working with each child, knows they are a unique individual with rights for love, respect and quality childcare in a warm and nurturing environment. There is a steadfast belief that children learn through play and self-exploration and at Tache Community Day Care, children are provided with opportunities to grow socially, emotionally, physically and intellectually. Children are encouraged to develop self-confidence, independence, creativity and appropriate social skills. Each child will have the opportunity to learn how to solve their own problems, become capable of thinking for themselves and gain respect for one's feelings, property and environment. To register please visit the Tache Community Day-Cares Online Registry to add your name to our waitlist. Once a spot becomes available, someone from the Tache Community Day Care will contact you with more information.